Presents

BISS RUBISS NZ CH Sandlewood Runa Mile In M'Shus
(Milo)
Sire: MBISS Aust Ch Burragundy Brace Yourslf ET
Dam: MBISS RUBISS NZ Ch Sandlewood Ivy's A Gamble
Whelped: 8/3/17
Hips 3-4 Elbows 0-0 Current Clear Eye Cert,
Clear Heart Cert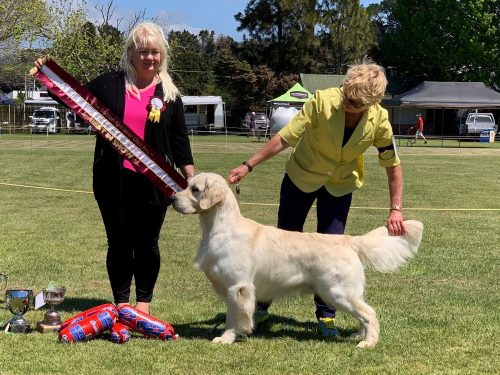 Milo winning Dog CC Junior and Best In Show at the Golden Retriever Championship Show Oct 2018 under Susanna Zubair (Thornywait Goldens) UK
 On the move for Best In Show
Milo 18 months
Achievements:
Baby Puppy
Milo wins 2 times Baby Puppy Of Group
Puppy
Milo wins Best of Group, Puppy of Group
Best In Show & Puppy in Show at New
Years Eve Allbreeds Open Show 2017 at 8 months
At 10 months Milo wins his first CC with
Best Of Breed and Puppy of Group
Milo wins Puppy In Show at the Golden
Retriever Champ show March 2018 under
Mrs Chie Ejima (Japan)
And at Milo's last show in Puppy he wins
another Puppy Of Group
Junior
At 13 months Milo wins Junior Of Group
under Rosemary Easton (Montego Goldens)
At 14 months Milo has won his 2nd CC with
Best Of Breed
At 20 months Milo gains his Championship title under Janelle Salvestrin (Fantango Goldens) with Best Of Breed and Junior In Show at East Coast Gundog Society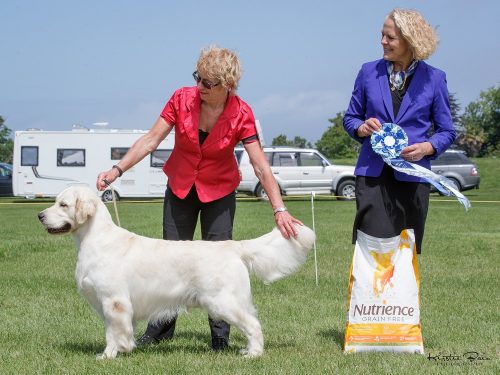 Milo winning BOB & Junior In Show making him a Champion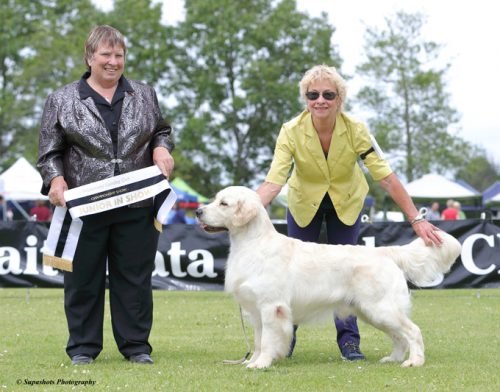 Milo winning Junior In Show at Waitemata Gundog Club at 20 months

At 16 months Milo wins Junior In Show under Sandra Patterson (Buffalo Kennels) at the  Central Golden Retriever Club  AM Show
Critique by Sandra Patterson
JUNIOR DOG 1 Sandlewood Runa Mile in M'Shus (AI) G Nelson & P Gordon
Seventeen month cream. Scopey lad. Impresses at first glance, yet to body up, as it should be at this age. Displays a pleasant outline with good proportions. Well balanced head and muzzle, correct bite, dark eye, rather soulful expression and good pigment. A good layback enables a smooth sweep of neck into his strong topline. Adequate forechest for his age. Well-knit body. Strong straight limbs down to tight feet. Well-turned stifles and strong hindquarters, which he used on the move. Still to coat up, but the texture is correct. He moved smoothly and effortlessly around the ring, good reach and drive, strong topline and happy outgoing nature. A workmanlike dog, with good ring presence. I think he will be one to watch for the future.
and at the PM Show Milo wins
Dog CC Junior In Show & Reserve In Show under Lynne Hennessy (Ritzilyn Goldens) at the Central Golden Retriever Club
Critique by Lynne Hennessy
1st Sandlewood Runa Mile In M'Shus Really fell for this chap, pale boy shown in hard fit condition, love his height/length ratio. Stands on the very best of legs and feet. Moves true with good side action, excellent head carriage. Covers his ground with a long, easy stride. Nice head, a dog that knows he is special and commands attention. Shown in good coat and condition. Balanced angulation fore and aft with super front assembly. Handled and presented to advantage. Croup may be a little short but even on the best no one is perfect. Perfect level of maturity for his age. RESERVE BEST IN SHOW, DCC, JUNIOR IN SHOW

At 18 months Milo does it again winning Dog CC and this time "Best In Show "at the Golden Retriever Club Championship Show under
Susanna Zubair (Thornywait Golden Retrievers) UK
Critique by Susanna Zubair
JUNIOR DOG
1st SANDLEWOOD RUNA MILE IN M'SHUS – G Nelson & P Gordon. My star of the day, Very eye-catching young pale gold boy who appealed a lot for his overall balanced body, correct length of leg to length of body ratio, masculine head with a dark eye and pigment, good skull and stop, strong neck of good length, short coupled loin, well sprung ribs, stands on strong well boned legs with correct cat-like feet, moves well holding a lovely shape and hard to take your eyes off him, carries his tail level with his back, very nicely presented and handled, would imagine he still has his best to come as still young at only 18 months old, could have took him home with me, delighted to award him best dog and best in show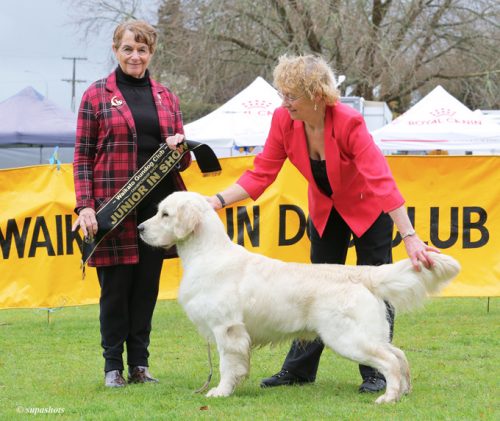 Milo winning Junior in Show  at Waikato Gundog Club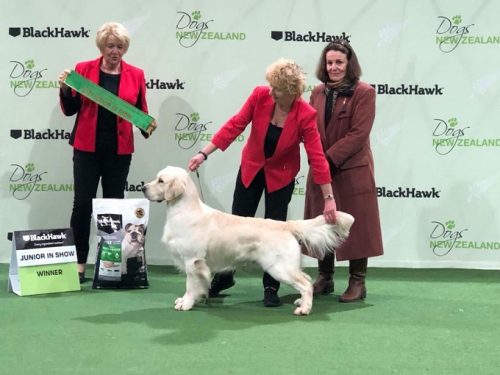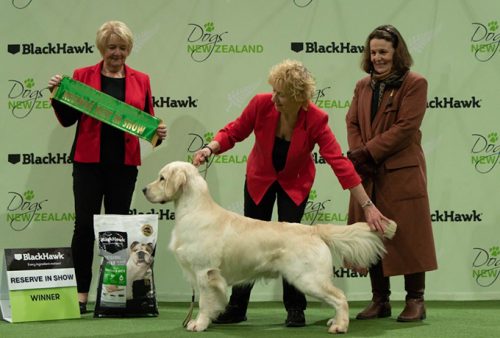 Milo winning Dog CC Junior & Reserve in Show at the Central Golden Retriever Club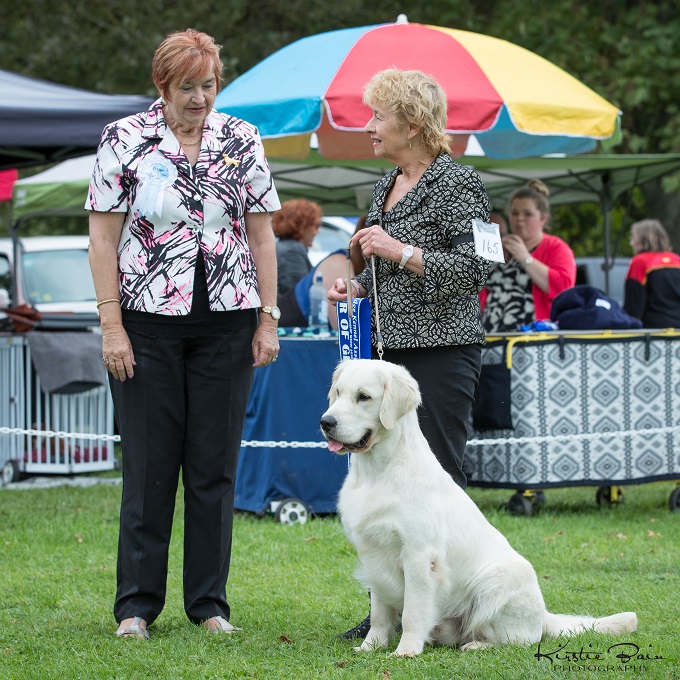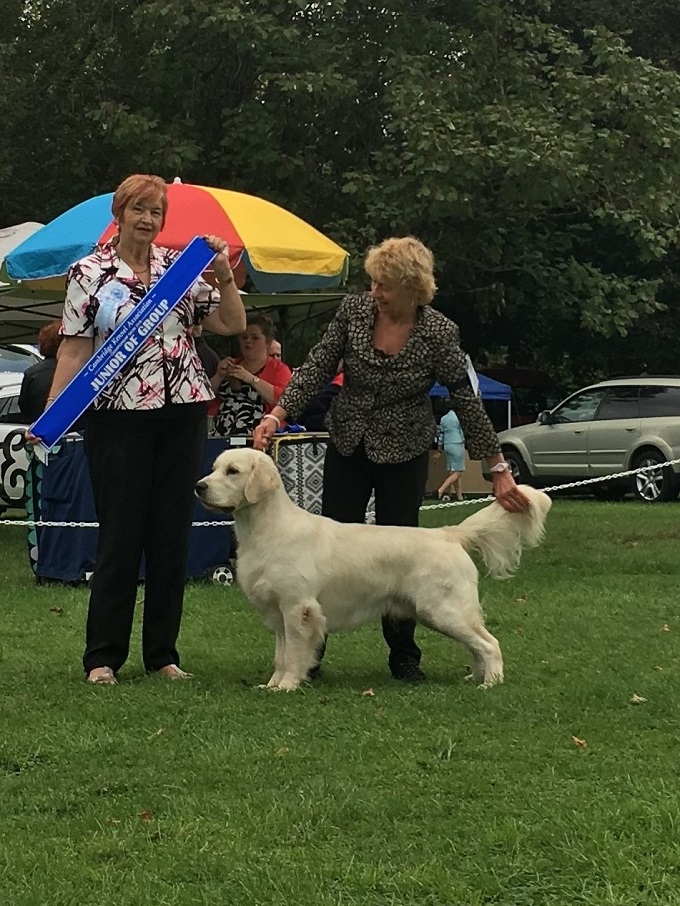 Milo at 13 months winning Junior of Group under  Rosemary Easton
(Montego Goldens)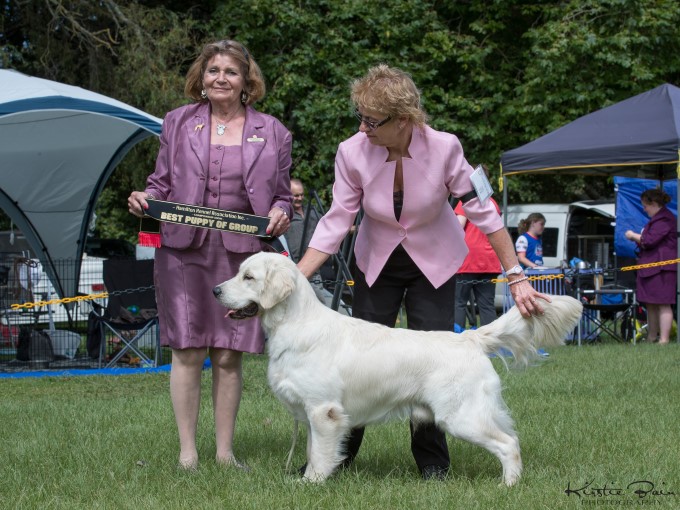 Milo winning Puppy Of Group at his last
Show in Puppy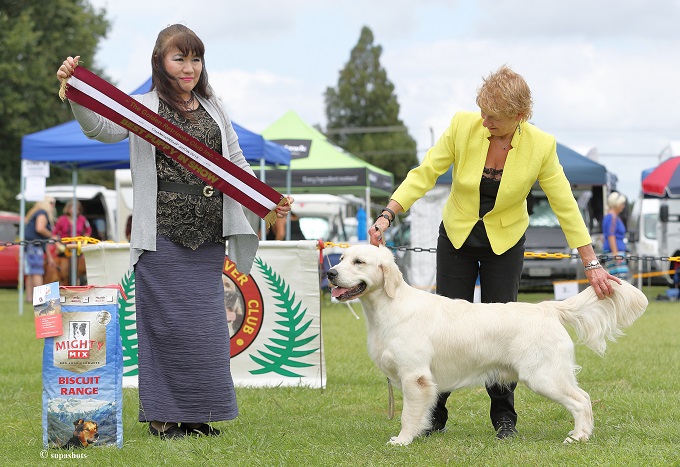 Milo 11 months winning Puppy In Show at
Golden Retriever Show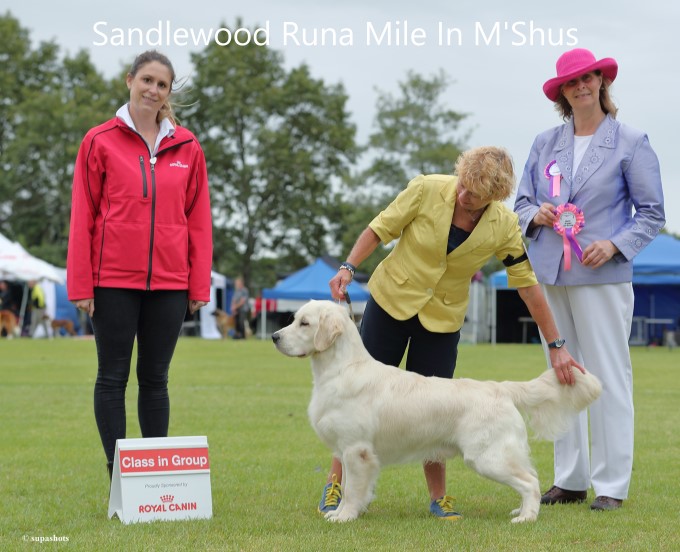 Milo 10 months winning Puppy of
Group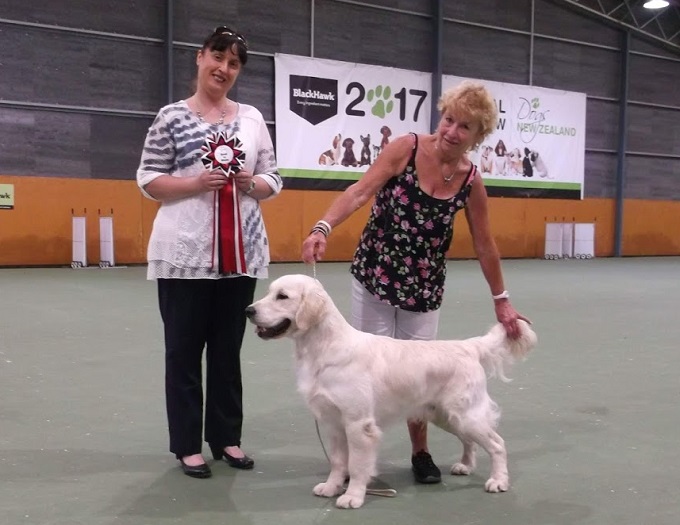 Milo 8 months winning Best In Show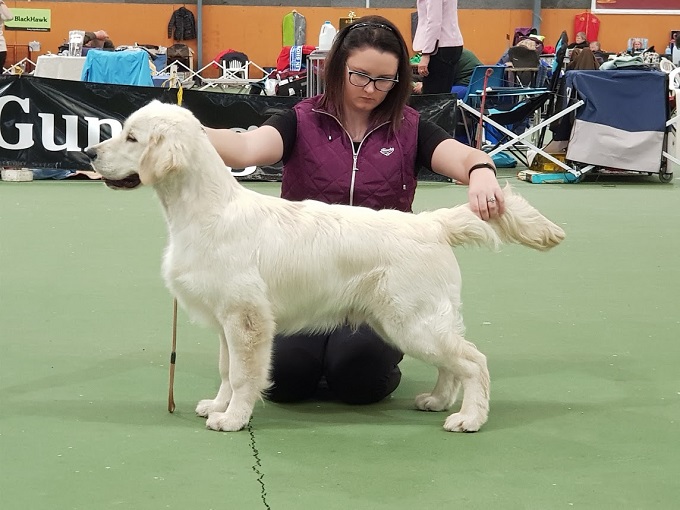 Milo 6 months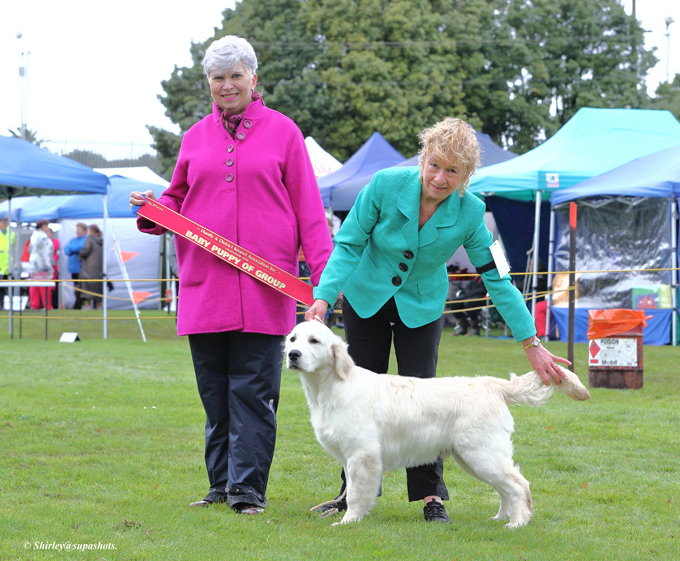 Milo
winning Baby Puppy of Group 5 1/2 months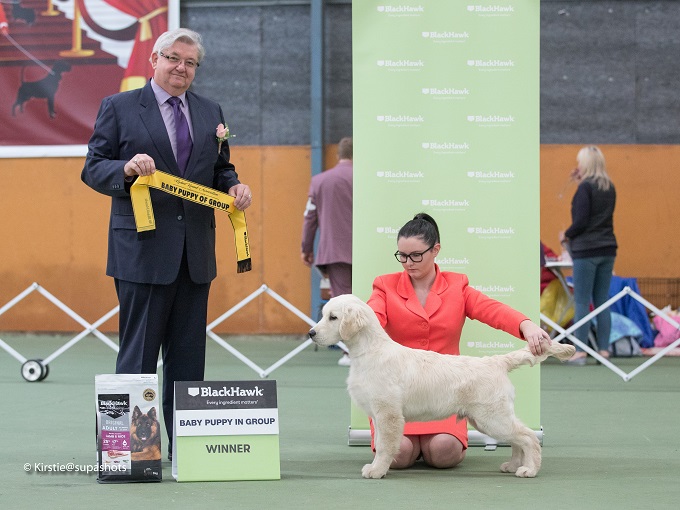 Milo
wins Baby Puppy of Group at 5 months
Pedigree Of
 "BISS RUBISS NZ CH Sandlewood Runa
Mile In M'Shus"
Parents

Grandparents

Great
Grandparents
MBISS
Aust Champion
Burragundy Brace Yourslf ET


Hips 3-3




Elbows 0-0

Grand Champion


Fetchnpoint Knee Jerker


Hips 3-3

CH


Fantango Chasing Dreams

CH


Yellowfetch Ding Dong
Ambermist
Keepsake


Hips 4-2

Aust Ch


Xanthos Fletcher Christian JW


Hiips 4-3

Aust Ch


Ambermist Grace Inmotion
MBISS
RUBISS NZ Champion
Sandlewood Ivy's A Gamble


Hips 1-1




Elbows 0-0

NZ Champion


Sandlewood Gamble With Gold


Hips 1-2

Goldfleece
Go for Gold at Sandlewood (Imp Aust)


Hips 6-6

NZ CH 

Sandlewood
Charlies Angel


Hips 5-5

NZ Champion


Kavandale Angeleyes


Hips 7-6

Aust Ch


Dream Max Grandmother's Prospect (Imp Swed)


Hips 3-3

NZ CH


Hawkwood Iduna