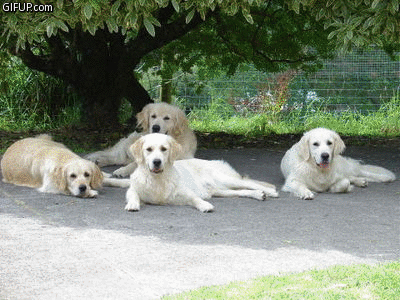 My family of Goldens live in Taupiri
in New Zealand on 1 1/2 acres.
They share life with my husband (Michael) & myself
(Gaye).
My weekends are usually taken up travelling to dog shows
or exercising the team around the property or on the surrounding roads.
My Kennel Partner (Phillida) lives on 4 acres in
Christchurch with her Golden family, her Rabbits, her Abbyssinian cats and
her many wonderful horses.
Our dogs are our best friends and live in the house with
us – as all Goldens deserve.
Phillida and I spend at least one weekend together a
year to enjoy each others company and meet any new Golden family members.
We hope you enjoy visiting our site.
I (Gaye) can be contacted on
Ph 64 7 824-8850
Phillida can be contacted on
Ph 64 3 318-7045

Gaye Nelson, & Phillida Gordon
Taupiri
& Christchurch
New Zealand
---