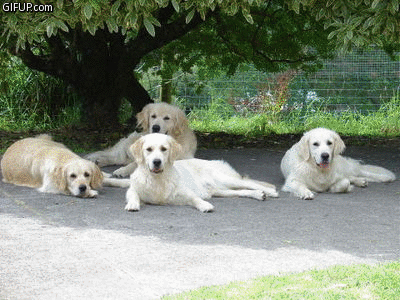 My family of Goldens live in Taupiri
in New Zealand on 1 1/2 acres.
They share life with my husband (Michael) & myself
(Gaye).
My weekends are usually taken up travelling to dog shows
or exercising the team around the property or on the surrounding roads.
My long time Kennel Partner (Phillida) lives on 4 acres in
Christchurch with her Golden family, her Rabbits, her Abbyssinian cats and
her many wonderful horses.
Our long time friend and newest Kennel Partner (Sharron) lives in Helensville with
her 2 Golden Retrievers and Clumber Spaniel
Our dogs are our best friends and live in the house with
us – as all Goldens deserve.
Phillida, Sharron and I spend at least one weekend together a
year to enjoy each others company and meet any new Golden family members.
We hope you enjoy visiting our site.
I (Gaye) can be contacted at
sandlewood@xtra.co.nz
Phillida can be contacted at
pjgordie@hotmail.com

Gaye Nelson, & Phillida Gordon & Sharron Fleming
Taupiri, Helensville
& Christchurch
New Zealand
---