Presents

Goldfleece Go For Gold At Sandlewood (Imp Aust) (Sovereign)

Sire: Aust Ch Stanroph Shared
Assets (Imp UK)
Dam: Dobro Free As A Bird
Whelped: 24/4/04
Hips 6-6 Elbows 0-0 Current Clear Eyes Clear Heart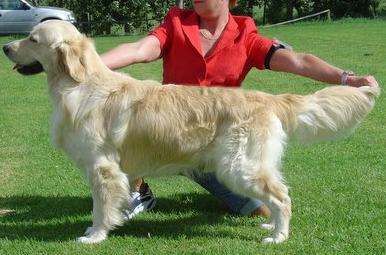 Sovereign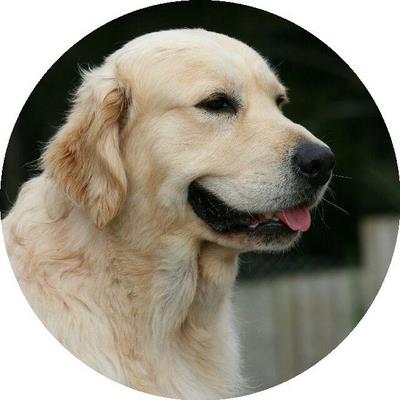 Achievements:
Sovereign has arrived in New Zealand.
We are so
grateful to Ann Smith for letting us have this puppy and his fabulous
pedigree.
Sovereign is a real little character and we hope he will
be a great asset to the breed
Sovereign has only been shown very lightly due to losing
his coat for some time.
He was awarded Baby Puppy in Show at Waikato
Gundog Specialty show in Sept 2004 &
Baby Puppy in Show at
GRC Specialty champ show in Sept 2004
After 8mths of waiting for him to grow some body &
coat we have put Sovereign back in the show ring.
At his first show in
March 2006 he thrills us by getting the dog CC with Best of Breed &
then on to win Best Of Group.
Two weeks later he wins Dog CC at his
next two Shows with ROB at the first & BOB & Reserve Of Group at
the second.
Sovereign has done it again & is now on 6 CC's after
winning Dog CC & Intermediate In Show at the Golden Retriever
Championship Show 2006.
Sovereign does not enjoy being shown so once again we
have retired him- temporarily in the hope that we can pick up his last 2
CC's eventually.
He has the most delightful temperament which he has
passed on to his progeny.
He has sired 5 CC winners for us including 3
Champions.
Pedigree of
"Goldfleece Go For Gold At Sandlewood (Imp Aust) (Sovereign)"

Parents
GrandParents
GreatGrandParents
SIRE

Aust Ch Stanroph Shared Assets (Imp
UK)     

 

Sh Ch Goldenquest
Ambassador

 Sh
Ch Elswood The Highlander
Golmas Gilbridie Of Goldenquest
Sh Ch Stanroph So Be It (UK)
Eng Ch Stanroph Sailor Boy
Stanroph Sierra Solitaire

DAM

Dobro Free As A Bird

Eng Ch Ritzilyn Cockney Robin
Sh Ch Amirene King Eider Of Davern
Ritzilyn Tickled Pink
Aust Ch Goldfleece Fly So High
Alibren Son Of A Gun (Imp UK)
Stanroph Soloflight (Imp
UK)